CES Last Instructional Packet
Linda Contreras
Thursday, May 07, 2020
CRANE ELEMENTARY
INSTRUCTIONAL PACKETS
May 11, 2020
Parents,
Please pick up your child's last Learning Instructional Packet on Monday, May 11, 2020. It is important that your child continues with the learning process and completes assignments.
Packets will be distributed in the dismissal areas. If you have any questions, you may contact your child's teacher through Class Dojo, REMIND, or email. Etc.
Thank you for your support.
Sincerely,
Linda Contreras
Crane Elementary Principal
GRADE LEVEL TIME LOCATION
2nd 10:00-11:00 South
1ST 10:00-11:00 Circle Drive
Kinder 10:00-11:00 East
PreK 10:00-11:00 East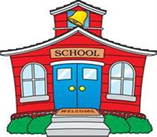 GRUPO PRIMARIO
PAQUETES INSTRUCCIONALES
11 de mayo de 2020
Padres,
Recoja el ultimo paquete de instrucción de aprendizaje de su hijo en la escuela el lunes 11 de mayo de 2020. Es importante que los alumnos continúen con el proceso de aprendizaje y completen las tareas.
Los paquetes serán distribuidos en las áreas de salida. Si tiene alguna pregunta, puede comunicarse con el maestro de su hijo a través de Class Dojo, REMIND o por correo electrónico. Etc.
Gracias por su apoyo.
Sinceramente,
Linda Contreras
Crane Elementary Director
NIVEL DE GRADO TIEMPO UBICACIÓN
2do 10:00-11:00 Sur
1er 10:00-11:00 Circle Drive
Kinder 10:00-11:00 Este
PreK 10:00-11:00 Este